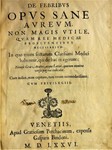 Title
De febribus opus sane aureum
Description
De febribus opus sane aureum, non magis utile, quam rei medicae profitentibus necessarium : In quo trium sectarum clarissimi medici habentur, qui de hac re egerunt : nempè Graeci, Arabes, atque Latini, quorum nomina versa pagina indicabit : cum indice, tum capitum, tum rerum accomodatissimo, [1576]
Subjects: Fever – Early works to 1800
Notes: Includes extracts from Giovanni Marinello's Commentarii ... in lib. Hippocratis; the entire text of Galen's De differentiis febrium and selections from his Methodus medendi, bks. 8-12 and from his De methodo medendi ad Glauconem bk. 1; the first six chapters of book 3 of the so-called Medicina Plinii, ascribed to Plinius Valerianus; and a treatise headed "Philonii De febribus liber" which is taken from Valesco de Taranta's Philonium or Practica.
Language: Latin
Publisher
Apud Gratiosum Perchacinum, expensis Gasparis Bindoni
Keywords
Hippocrates, Rare Book Collection
Recommended Citation
The Rockefeller University, "De febribus opus sane aureum" (1576). Rare Books. 95.
https://digitalcommons.rockefeller.edu/rare-books/95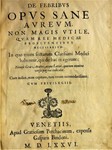 COinS