Title
Preview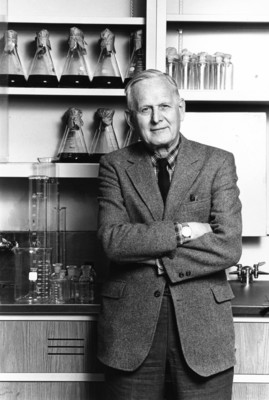 Description
Maclyn McCarty, 1982. Photo by Ingbert Grüttner
McCarty, Maclyn (1911-2005) was an American geneticist who devoted his life as a physician-scientist to studying infectious disease organisms and best known for his part in the monumental discovery that DNA, rather than protein, constituted the chemical nature of a gene.
Born in South Bend, Indiana, in 1911, Dr. McCarty received his medical degree from The Johns Hopkins University, where he then spent three years as a pediatric house officer before joining Dr. Avery's laboratory at The Rockefeller Institute. In 1946, he established his own laboratory at Rockefeller, at which point his research turned to focus entirely on group A Streptococcus.
Dr. McCarty served as The Rockefeller Institute Hospital's physician- in- chief from 1960 to 1974 and as the university's vice president from 1965 to 1978. He was also an editor of The Rockefeller University Press's Journal of Experimental Medicine from 1963 nearly until well past his retirement in 1981. Dr. McCarty also served as chairman of the Public Health Research Institute in New York from 1985 to 1992. He was a member of the National Academy of Sciences and a charter member of its Institute of Medicine. In addition to the Lasker Award, he received the Wolf Prize in Medicine and an Eli Lilly Award in Microbiology and Immunology.
See also C-Reactive Protein: From Pneumococcal Pneumonia to Cardiovascular Disease Risk, DNA: The Transforming Principle and the Birth of Modern Genetics, National Academy of Sciences Biographical Memoirs, and Marjorie McCarty Oral History
Years at The Rockefeller University: 1940-1981; emeritus 1981-2005