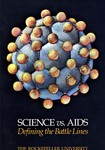 Description
A Report on the Seven Springs International Conference on the Immunological and Infectious Sequelae of AIDS by Lois Wingersion.
Sponsored by The Rockefeller University
This publication is produced to be read in ·two different ways. On the right side of the pamphlet are the highlights of the Seven Springs conference proceedings written in non-technical language. On the left side are easy-to-understand summaries of several key scientific issues · pertaining to the AIDS epidemic. This background is intended to provide readers with the basic information necessary to help them comprehend the complex task facing scientists as they work to understand the AIDS virus and develop treatments against it.
Publisher
The Rockefeller University
Keywords
AIDS, Ralph Steinman, Seven Springs Conference Center, Lois Wingersion
Recommended Citation
The Rockefeller University, "Science vs. AIDS: Defending the Battle Lines" (1989). Science vs. AIDS: Defending the Battle Lines. 1.
https://digitalcommons.rockefeller.edu/science-aids/1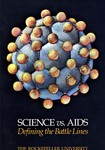 COinS