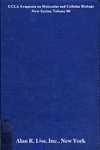 Title
Kaiser, E. /Editor Synthetic peptides: approaches to biological problems
Description
James P. Tam, Emil Thomas Kaiser/editors. Synthetic peptides: approaches to biological problems: proceedings of a Glaxo-UCLA colloquium held at Park City, Utah, January 31-February 4, 1988
Series: UCLA symposia on molecular and cellular biology; new ser., v. 86
Synthetic peptides: approaches to biological problems comprehensively reviews the importance of peptides and synthetic chemistry in solving biological challenges, with special attention given to the use of peptides in the development of synthetic vaccines. The book examines in detail how synthetic peptides can be used to define the structure and function of various biological interactions (e.g., hormone-receptor, antigen-antibody, substrate-enzyme, and protein-DNA), and discusses how a better understanding of the syntheses, structures, and applications of the peptides themselves is leading to new approaches for their use in addressing a variety of biological problems.
Divided into six sections, this authoritative volume provides new insights into such pertinent topics as methods of peptide application, prediction of peptide and protein structure, synthetic peptide-based vaccines, determination of antigenic domains, bioactive conformations of peptide hormones, and peptide hormones and growth factors. In addition, the compilation focuses on research related to the application of synthetic peptides in the field of immunology. Other topics covered include polar interactions in proteins, mapping of immunodominant epitopes, the next generation of foot-and-mouth-disease vaccines, and the use of synthetic peptides for the analysis of hepatitis B virus.
The book will be of interest to biochemists, immunologists, oncologists, virologists, toxicologists, pathobiologists, and pharmacologists.
Keywords
peptides, immunology, vaccines, peptide hormones
Recommended Citation
The Rockefeller University, "Kaiser, E. /Editor Synthetic peptides: approaches to biological problems" (1989). RU Authors. 94.
https://digitalcommons.rockefeller.edu/ru-authors/94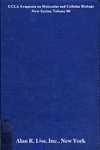 COinS