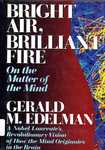 Title
Edelman, G. Bright air, brilliant fire: on the matter of the mind
Description
Gerald M. Edelman. Bright air, brilliant fire: on the matter of the mind
We are on the brink of understanding ancient mysteries: how we know, what governs our nature, what makes a person different from a thing. In the last decade, more than twenty disciplines dealing with every aspect of the brain have contributed to a revolution in the neurosciences – a revolution as significant, in the view of many observers, as the Galilean and Copernican revolutions in mathematics and physics or the Darwinian revolution in biology.
In this book, one of the world's foremost brain scientists gives us a glimpse into the workings of the human brain – the most complex material object in the universe. The book considers our place in nature and how we came to be able to describe and change it. It examines the implications of understanding the brain for philosophy, for curing mental disease, and for the possibility of building conscious artifacts. There is no greater scientific challenge than understanding the brain. Here is the book that provides a window on that understanding.
Gerald M. Edelman received the Nobel Prize for Physiology or Medicine in 1972.
Keywords
philosophy, neuropsyhology, mind and body
Recommended Citation
The Rockefeller University, "Edelman, G. Bright air, brilliant fire: on the matter of the mind" (1992). RU Authors. 51.
https://digitalcommons.rockefeller.edu/ru-authors/51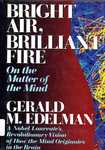 COinS