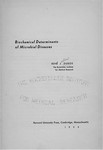 Title
Dubos, R. Biochemical determinants of microbial diseases
Description
René J. Dubos. Biochemical determinants of microbial diseases
Series: Harvard University monographs in medicine and public health; no. 13
Dubos has succeeded admirably in blending in organic fashion results of widely scattered biochemical, physical and immunologic studies.
The subjects of cytology of bacteria and their physicochemical and staining properties, cellular structure, variability, virulence, immunization treated in separate chapters. The concluding chapter, on trends and perspectives, is stimulating in its philosophical vein.
Wisely selected quotations at the beginning of each chapter introduce a broad contemplative element and add much to the readability. There are seventy-one pages of bibliography.
Publisher
Harvard University Press
Keywords
microbiology, pathogenic microorganisms, communicable diseases
Recommended Citation
The Rockefeller University, "Dubos, R. Biochemical determinants of microbial diseases" (1954). RU Authors. 48.
https://digitalcommons.rockefeller.edu/ru-authors/48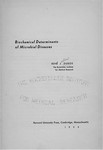 COinS