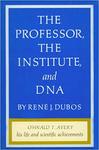 Title
Dubos, R. The professor, the institute, and DNA
Description
René J. Dubos. The professor, the institute, and DNA
Oswald Theodore Avery is little known outside the scientific community. Yet, this extraordinary man here brought vividly to life by a perceptive friend and sophisticated scientific colleague was a monumental force in the development of medical research in the United States.
This is the story of a man and a place that were uniquely suited to each other – O.T. Avery and The Rockefeller Institute for Medical Research. It is also the story of a charming, forceful, and enigmatic personality – a man whose character imposed a lasting influence on his associates and on the direction of scientific investigation throughout the world. And, like any good narrative, the story has its heroes and its villains, its disappointments and its triumphs.
Only a person with the expertise, insight, and sensitivity of a Rene Dubos could have combined the science, the times, and the man with such penetration.
Publisher
Rockefeller University Press
Keywords
Oswald Avery, Rockefeller University, history
Recommended Citation
The Rockefeller University, "Dubos, R. The professor, the institute, and DNA" (1976). RU Authors. 43.
https://digitalcommons.rockefeller.edu/ru-authors/43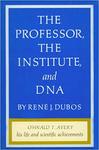 COinS