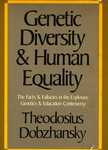 Title
Dobzhansky, T. Genetic diversity and human equality
Description
Theodosius Dobzhansky. Genetic diversity and human equality
Series: John Dewey lecture; no. 13
Writing with clarity and authority, one of the world's foremost geneticists, Theodosius Dobzhansky, cuts through the great mass of confusion to lay bare the scientific facts and their relevance – and frequent irrelevance – to the moral issues in the current debate about the social consequences of heredity.
What in fact is the extent of human genetic diversity? Theodosius Dobzhansky's particular and definitive response to this important question fully displays the result of the research conducted over his long and distinguished career.
The scientific precision and moral clarity of this book illuminate a controversial issue in a way that offers expert guidance for scientists, policy-makers, and – most importantly – for the concerned citizen.
Keywords
genetics, intelligence levels, human population genetics
Recommended Citation
The Rockefeller University, "Dobzhansky, T. Genetic diversity and human equality" (1973). RU Authors. 33.
https://digitalcommons.rockefeller.edu/ru-authors/33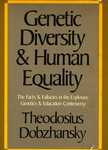 COinS