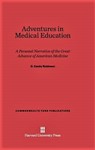 Title
Robinson, C. Adventures in medical education; a personal narrative of the great advance of American medicine
Description
George Canby Robinson. Adventures in medical education; a personal narrative of the great advance of American medicine
The author introduces his subject with a brief history of medical education up to the beginning of the present century. The autobiographical account begins when the author entered the Johns Hopkins Medical School and continues with his training in the Pennsylvania Hospital and in the Medical Clinic of Friedrich Müller in Munich. Subsequently, Dr. Robinson took part in organization and administration as well as in teaching and research in the Rockefeller Institute for Medical Research, and in several university medical schools; he gives an account of the development of these institutions and of the men who took prominent parts in the new era of scientific medicine in this country.
Adventures in Medical Education describes how medical research evolved and how modern medicine spread to such key institutions as Washington University in St. Louis and Vanderbilt University in Nashville, how it grew in China at the Peiping Union Medical College, and finally how it was used in New York City at the Cornell Medical School.
Concluding with a discussion of some basic principles and present-day problems of medical education, the author shows how important medical developments constitute an integral part of our cultural history.
Publisher
Harvard University Press
Keywords
medical colleges, education
Recommended Citation
The Rockefeller University, "Robinson, C. Adventures in medical education; a personal narrative of the great advance of American medicine" (1957). RU Authors. 158.
https://digitalcommons.rockefeller.edu/ru-authors/158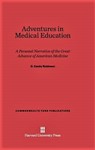 COinS