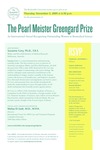 Description
The Pearl Meister Greengard Prize
An International Award Recognizing Outstanding Women in Biomedical Research
2009 recipient Suzanne Cory, Ph.D., F.R.S.
Special Guest and Speaker Wafaa El-Sadr, M.D., M.P.H. Director, International Center for AIDS Care and Treatment Programs, Columbia University, 2008 MacArthur Fellow
The Pearl Meister Greengard Prize, awarded by The Rockefeller University, was established by the late Dr. Paul Greengard, who served as the University's Vincent Astor Professor, and his wife, the sculptor Ursula von Rydingsvard. Dr. Greengard donated his entire monetary share of the 2000 Nobel Prize in Physiology or Medicine to Rockefeller and, in partnership with generous supporters of the University, created this major international prize that recognizes the accomplishments of outstanding women scientists.
Each year, the University invites a woman who has achieved distinction in such fields as government, international relations, business, journalism, science, and the arts to speak at the award ceremony and present the Prize. It is named in memory of Dr. Greengard's mother, who died giving birth to him.
Publication Date
11-5-2009
RU Department
Communications and Public Affairs
Publisher
The Rockefeller University
Keywords
Paul Greengard, Suzanne Cory, Pearl Meister Greengard, poster
Recommended Citation
The Rockefeller University, "PEARL MEISTER GREENGARD PRIZE" (2009). Posters. 130.
https://digitalcommons.rockefeller.edu/posters/130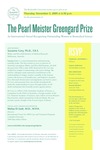 COinS