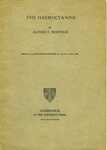 Title
The Haemocyanins
Description
Alfred C. Redfield. The Haemocyanins, 1934
Abstract: As yet we know comparatively little about haemocyanin. especially with regard to its relation to oxygen. It is a matter which would well repay investigation to determine whether it has the remarkable properties which haemoglobin has in this respect. properties which are at present unique. (Bayliss, Principles of General Physiology, 1915.)
Alfred Clarence Redfield (1890 – 1983) was an American oceanographer known for having discovered the Redfield ratio, which describes the ratio between nutrients in plankton and ocean water. In 1966, he received the Eminent Ecologist Award from the Ecological Society of America. His research was used by James Lovelock in the formulation of the Gaia hypothesis, that "Organisms and their environment evolve as a single, self-regulating system." From 1918 to 1924, Redfield worked with Elizabeth M. Bright on studies that involved the effects of radiation and Nereis. In collaboration the team published 12 papers.
During his doctoral research, he studied the mechanism of horned toad skin coloration, identifying adrenaline as the primary control of skin coloration. He later studied the effects of X rays and radium radiation on the physiological action.
Following his graduation, he went on to study marine biology. He studied hemocyanin, which is the blood pigment of many invertebrate species, which binds oxygen, and characterized its physiological behavior.
Publisher
The University Press
Keywords
Alfred C. Redfield
Recommended Citation
Redfield, Albert C., "The Haemocyanins" (1934). Pamphlets, Offprints and Reprints. 43.
https://digitalcommons.rockefeller.edu/pamphlets-offprints-and-reprints/43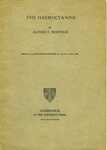 COinS