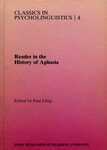 Title
Reader in the History of Aphasia
Description
Eling, P. Reader in the history of aphasia : from Franz Gall to Norman Geschwind, 1994
Series: Amsterdam studies in the theory and history of linguistic science. Series II, Classics in psycholinguistics; v. 4.
The study of language and the brain is heavily dependent on the work of the early aphasiologists, and those wanting to get acquainted with the discipline will come across frequent references to these classic authors. This collection brings together seminal publications by 19th- and 20th-century neurologists concerned with the relationship between language and the brain. In selecting texts the emphasis was on those parts that deal explicitly with the opinion of an author on language processes as revealed by aphasic phenomena. All texts are presented in English (many of them translated for the first time) and preceded by in-depth introductions by present-day specialists in the field. - Publisher
Publisher
J. Benjamins Pub. Co.
City
Amsterdam; Philadelphia
Keywords
aphasia, collectied works
Recommended Citation
Eling, Paul, "Reader in the History of Aphasia" (1994). Jason W. Brown Library. 96.
https://digitalcommons.rockefeller.edu/jason-brown-library/96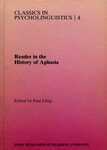 COinS