Title
Preview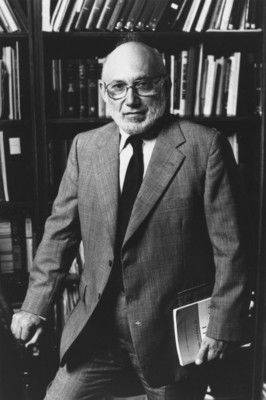 Description
Joshua Lederberg, 1979. Photo by Ingbert Grüttner
Lederberg, Joshua (1925-2008) was an American geneticist, a pioneer in the field of bacterial genetics, who shared the 1958 Nobel Prize for Physiology or Medicine (with George W. Beadle and Edward L. Tatum) for discovering the mechanisms of genetic recombination in bacteria.
Born in 1925 and raised in New York City, Dr. Lederberg received his Ph.D. from Yale University in 1947 and then joined the University of Wisconsin, Madison, where he founded the department of medical genetics 10 years later. In 1959, he moved to Stanford University, where he was chair of the newly established department of genetics. There he also expanded his research into the fields of artificial intelligence and exobiology. In 1978, Dr. Lederberg became the fifth president of The Rockefeller University, a position he held until 1990 when he retired from the presidency and became University Professor, Raymond and Beverly Sackler Scholar and head of the Laboratory of Molecular Genetics and Informatics, where his research continued.
Throughout his later research career, Dr. Lederberg was highly active in international science and human rights advocacy, serving as a public policy adviser to nine United States presidential administrations and authoring a weekly Washington Post column, "Science and Man," for six years. He was a member of the National Academy of Sciences and a foreign member of The Royal Society.
In addition to the Nobel Prize and the Medal of Freedom (2006), the nation's highest civil award, Lederberg received many honors, including the National Medal of Science (1989). He was elected a member of the U.S. National Academy of Sciences (1957), Foreign Member of the Royal Society of London (1979), and a fellow of the American Academy of Arts and Sciences (1982). Among his honorary degrees was one conferred on Lederberg by The Rockefeller University (1999). The author of more than 300 scientific and policy-related articles, Lederberg also was the editor of several books, including Papers in Microbial Genetics: Bacteria and Bacterial Viruses (1951), Emerging Infections: Microbial Threats to Health in the United States (1992), and Biological Weapons: Limiting the Threat (1999).
See also Discovering Genetic Recombination in Bacteria: Prelude to Modern Molecular Genetics and National Academy of Sciences Biographical Memoirs
Keywords
Joshua Lederberg
COinS