Title
Preview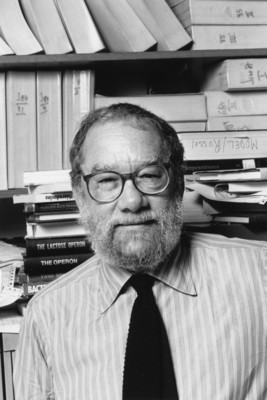 Description
Peter Model, 1987. Photo by Ingbert Grüttner
Model, Peter (1933-2017) was a champion of modern molecular genetics and emeritus faculty member who spent the major part of his career at The Rockefeller University. Model used genetics, biochemistry, and molecular biology to study the f1 phage, a type of virus that infects Escherichia coli bacteria. His work provided valuable details about the way genes express themselves and control one another.
Born in Frankfurt in 1933 during the rise of the Nazis, Model and his parents escaped in 1942 to settle in New York. As a young man, he studied economics at Cornell University and Stanford University, served in the United States Army as a first lieutenant, and worked in his father's investment banking business for a period before earning a Ph.D. in biochemistry from Columbia University.
Model arrived at Rockefeller in 1967, joining the laboratory of the late Norton Zinder as a postdoctoral fellow. Named assistant professor in 1969 and associate professor in 1975, he was promoted to full professor in 1987. He and Zinder worked closely together in the laboratory, and Model became co-head of the lab in 1987. From 1992 to 1995, he also served as associate dean of the curriculum under deans Bruce McEwen and later Zinder.
Years at The Rockefeller University: 1967-2000; emeritus 2000-2017