Title
Preview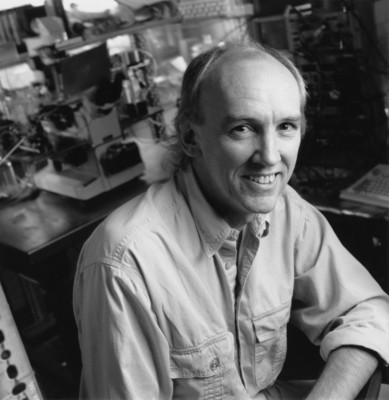 Description
David Gadsby, 1992. Photo by Robert Reichert
Gadsby, David C. (1947-2019) was a British physiologist and Patrick A. Gerschel Family Professor Emeritus at The Rockefeller University. He was best known for his studies on the mechanisms by which ions move across cell membranes.
Part of Gadsby's research focused on ion pumps. He examined a specific pump, the sodium pump, which uses metabolic energy to pump sodium ions out of and potassium ions into cells, maintaining the proper concentration of each. This pump is found in every cell in the animal kingdom, underlying diverse functions including the conduction of electrical signals by neurons, muscle contraction, hormone release, and maintenance of blood volume. Gadsby developed methods to measure the amount of electricity generated by this process, providing insights into the initiation and conduction of heartbeats. This work made important contributions to understanding the underlying causes of heart conditions such as cardiac arrhythmias, as well as to the development of new therapies.
Gadsby was born in Cardiff, Wales, in 1947. He received his B.A. and M.A. degrees from Trinity College, University of Cambridge, in physiology and biophysics, and his Ph.D. in physiology from University College London. He joined Rockefeller in 1975 as a research associate in the laboratory of Paul F. Cranefield, was named an assistant professor in 1978, an associate professor in 1984, and professor and head of the Laboratory of Cardiac and Membrane Physiology in 1991. He was also an adjunct professor at Weill Cornell Medicine.
Years at The Rockefeller University: 1975-2019