Title
Preview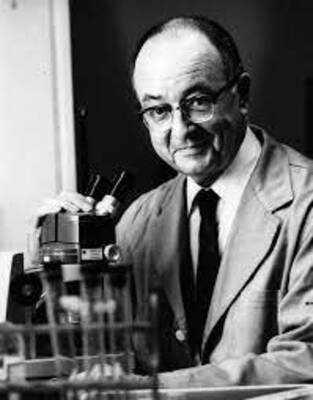 Description
Frank Brink, Jr. in his lab, circa 1970s.
Source: unknown
Frank Brink, Jr., (1910-2007) was an American biophysicist, educator, researcher, facilitator, and founding editor of the Biophysical Journal. He made major contributions to the understanding of neuronal activity through his targeted research on the cycle of excitation, response, and recovery in nerve fibers. Much of this research was in collaboration with Detlev W. Bronk, who inspired Brink to work on neural mapping of unidentified regions of the human brain. Brink also served as an important advisor to the surgeon of the United States Air Force during World War II.
Brink received his bachelor's degree at Pennsylvania State University, close to his home in Easton, Pennsylvania. In 1935 he earned a master's degree in physics from the California Institute of Technology. Brink met his future partner and mentor, Detlev W. Bronk, in 1939 at the Johnson Research Foundation for Medical Physics at the University of Pennsylvania, where Brink earned his doctorate in biophysics. Brink began his career at the John Hopkins University Department of Biophysics as an associate professor in 1949. Bronk was appointed president of the Rockefeller Institute for Medical Research in 1953, and shortly afterward Brink joined him there. The Rockefeller Institute's graduate educational program made monumental strides under the direction of Brink, who served as professor and acting dean of graduate studies from 1954 to 1958 and as dean until 1972.
Years at The Rockefeller University: 1953-1981; emeritus 1981-2007
Keywords
nerve fibers, neuronal activity
COinS