Title
Preview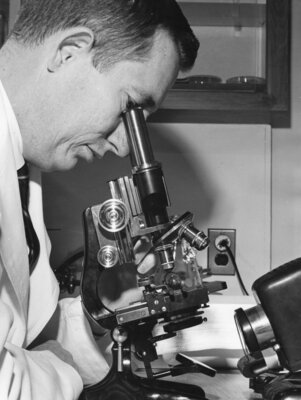 Description
Purnell Whittington Choppin, circa 1958
Courtesy of the Choppin family
Purnell Whittington Choppin (1929 – 2021) was an American virologist. He served on the faculty of Rockefeller University for nearly thirty years, becoming the Leon Hess Professor of Virology. He moved to the Howard Hughes Medical Institute in 1985, became the president of the institute in 1987, and retired in 1999, succeeded by Thomas Cech. Until his death in 2021, he was the chair of the Scientific Advisory Board at the Center for the Study of Hepatitis C, supported by a university consortium consisting of Rockefeller, Weill Cornell Medical College, and New York-Presbyterian Hospital.
Born in Baton Rouge, Louisiana, he attended medical school at Louisiana State University and received an M.D. in 1953. Before beginning his independent research career, Choppin did his internship and residency at Washington University School of Medicine and Barnes Hospital in St. Louis, Missouri.
Choppin began work at Rockefeller in 1957 as a research fellow and joined the faculty there in 1959, heading a virology research program focused on the influenza virus. He became a full professor and senior physician at Rockefeller in 1970 and served in various administrative roles including the vice president of academic programs and the dean of graduate studies.
Keywords
virology, influenza virus
COinS