Title
Preview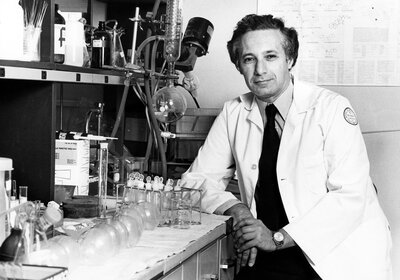 Description
Jack Fishman in his laboratory, circa 1982
Jack Fishman (1930-2013) was a Jewish American pharmaceutical researcher from Kraków, Poland. His family fled Nazi-occupied Poland and found refuge in Shanghai, China. From 1942 until 1945, he attended the Shanghai Jewish School and, in 1948, immigrated to the United States. Dr. Fishman rose to scientific fame for his research on steroid hormones and their role in endocrine-related cancers. He pioneered the study of opiate antagonists and developed a number of medicinal compounds that aid in reversing the effects of narcotics, the most prominent of these being Naloxone and Narcan, lifesaving medicines that are now in use in hospitals and emergency rooms throughout the world.
His positions over the years have included serving as a professor at Yeshiva University's Albert Einstein College of Medicine, the director of the Institute of Steroid Research at Montefiore Medical Center, and professor and director of the Laboratory for Biochemical Endocrinology at The Rockefeller University and the Director of Research at the Strang-Cornell Institute for Cancer Research.
In 1988, Dr. Fishman became president of the Miami-based IVAX Corporation and later served as the company's vice chairman of the board and chief scientific officer.
Dr. Fishman has also served as a consultant to a number of highly prominent institutions, including the World Health Organization, Food and Drug Administration, and National Science Foundation. Among his numerous honors and recognitions, he was the recipient of the highly-prestigious John Scott Award for the synthesis and development of Naloxone. Dr. Fishman never forgot his humble roots and his debt to those who contributed to his success. He endowed the Dr. Jack Fishman Scholarship for Immigrant Students at Yeshiva College, the Jack and Joy Fishman Professorship at Rockefeller University, and was a generous donor to numerous causes.
Years at The Rockefeller University: 1980-1988
Keywords
steroid hormones, endocrine-related cancers, Naloxone
COinS