Title
Preview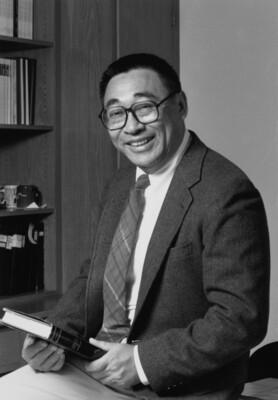 Description
Te Piao King, 1987. Photo by John Sholtis
Te Piao King (1930-2021) was a Rockefeller biochemist whose pioneering research greatly advanced the science and treatment of allergic reactions. Over the course of several decades, King took advantage of advances in biochemistry and molecular biology to tease out which proteins were responsible for prompting an allergic response in susceptible individuals, study their chemical properties, and to understand how they interacted with different parts of the immune system. He created chemically modified allergens in the lab to better understand their natural counterparts and to devise ways of reducing allergy symptoms.
Te Piao King was born in Shanghai, China, on August 21, 1930. He earned his undergraduate degree from the University of California at Berkeley in 1950, and his Ph.D. from the University of Michigan in 1953. That same year, he joined the faculty of The Rockefeller University—then known as The Rockefeller Institute for Medical Research. He was named assistant professor in 1957 and was promoted to associate professor in 1963, just one year before discovering antigen E. He retired in 2000.
King was a member of the American Society for Biochemistry and Molecular Biology, the American Academy of Allergy and Clinical Immunology, and the American Society of Biological Chemists.
Years at The Rockefeller University: 1953-2000; emeritus 2000-2021
Keywords
allergic reactions, immune system
COinS