Title
Preview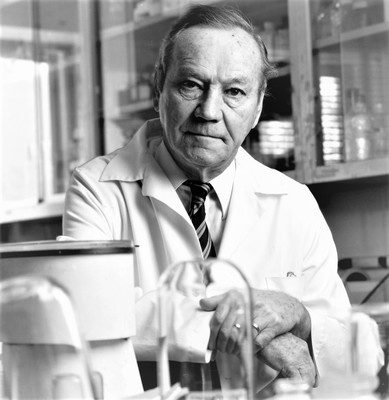 Description
John Zabriskie, 1992. Photo by Robert Reichert
Zabriskie, John B. (1929-2017) was a leader in the investigation of streptococcal infections and their long-term side effects, including rheumatic fever and autoimmune disorders. His work also made major contributions to understanding the link between bacterial infections and obsessive-compulsive disorders in children.
Zabriskie was born in Montreux, Switzerland. He attended Princeton University and received his M.D. from Columbia University College of Physicians and Surgeons. After an internship and residency at Bellevue Hospital, he served two years of active duty in the United States Air Force, stationed in France. Following a senior residency at Babies Hospital upon his return to New York, he joined Rockefeller in 1960 as a guest investigator in the laboratory of Maclyn McCarty. He eventually rose to a tenured professor and head of the Laboratory of Clinical Microbiology and Immunology. He became a professor emeritus in 2000.
Much of Zabriskie's research investigated how the immune response to bacterial infections leads to secondary autoimmune disorders. A major focus was the study of rheumatic fever, an inflammatory disease that can develop as a complication of strep throat or scarlet fever, both of which are caused by the streptococcus bacteria. Rheumatic fever occurs most often in children and can lead to permanent damage of the heart. The condition is now rare in the United States, where strep infections are usually treated with antibiotics, but it is still a problem in many developing countries.
In later work Zabriskie found that the heart cross-reactive antibodies produced as a result of strep throat can also migrate into an area of the brain called the basal ganglia, resulting in Sydenham chorea, a disorder of involuntary movement, as well as some cases of obsessive-compulsive disorder and Tourette's syndrome in children. These discoveries—made in collaboration with Susan Swedo of the National Institute of Mental Health—led to an improved understanding of how to prevent and treat these strep-related disorders. They also led to a screening test developed by Zabriskie for the broad category of these neurological disorders, known as pediatric autoimmune neuropsychiatric disorders associated with streptococcal infections (PANDAS).
Years at The Rockefeller University: 1960-2000; emeritus 2000-2017