Title
Preview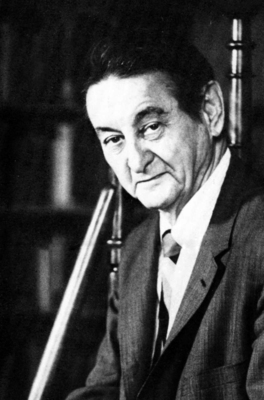 Description
Theodore Shedlovsky, circa 1970s.
Shedlovsky, Theodore (1898-1876) was a physical chemist, who focused his work on applying the techniques of physical chemistry to the study of biological processes. Shedlovsky was born in St. Petersburg, Russia. He came to the United States in 1908, receiving his B.S. (1918) and Ph. D. (1925) in physical chemistry from the Massachusetts Institute of Technology. In 1927 Shedlovsky joined the staff at the Rockefeller Institute for Medical Research as an assistant in the laboratory of Duncan A. MacInnes, a former professor at the Massachusetts Institute of Technology. Shedlovsky and MacInnes (later joined by Lewis G. Longsworth) were the primary members of a research group studying the physical chemistry of electrolytic solutions. Their work included examining the thermodynamic properties of electrolytic solutions, conductance, diffusion, and electrophoresis. Shedlovsky focused his efforts on the field of conductance. During his time at the Rockefeller Institute for Medical Research (became Rockefeller University in 1965), Shedlovsky was also involved in collaboration with colleagues in the examination of biochemical systems. While at Rockefeller, Shedlovsky became an associate in 1929 and a member and professor in 1956. Shedlovsky was involved in numerous non-scientific activities connected to the campus community.
A great lover of music, Shedlovsky founded the Rockefeller University Concerts in 1958. In 1965 Shedlovsky was also instrumental in the founding of the Rockefeller Children's School. The school was created for children ages 3 to 7 whose parents were faculty, staff or students at the University. Shedlovsky was a fellow of the New York Academy of Sciences from 1942 to 1960. He also served as vice president. Shedlovsky was also a member of the National Academy of Sciences, the American Chemical Society, and the American Association for the Advancement of Science. In 1969 Shedlovsky became emeritus at Rockefeller University and in 1975 received an honorary Doctor of Science degree from the University.
Years at The Rockefeller University: 1927-1969; emeritus 1969-1976
Keywords
Theodore Shedlovsky
COinS